Introducing new FHIR®-Pilot Interoperability Testbed
Low-cost turnkey sandbox for experimentation and testing that includes:
Pre-configured FHIR® server (ready to write programs and query!)
Realistic synthetic test data from PatientGen™

"Personas" with photos, life stories, full longitudinal records
Difficult to discern they are not real except phone exchange is "555"
Resembles clinical Protected Health Information but without legal risk
Can write to a FHIR®-PIT unlike other vendor sandboxes
Data can span enterprise like real patients' interactions
Aligns with CMS view of coverage world
Can use for meaningful, realistic demonstrations

Easily accessible through beginner's FHIR® programs

Numerous working code examples included
Have your own code working right away
All data easily "findable" as FHIR® resources

Learn, experiment, design, test in a safe environment
Unlimited testing and integration
Okay to give demonstrations using PIT data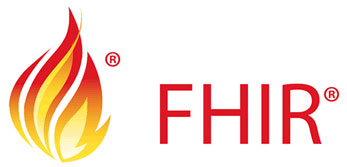 FHIR® and the [FLAME] mark are the registered trademarks of HL7 and are used with the permission of HL7. The use of these trademarks do not constitute a product endorsement by HL7.
FHIR® Starter – Quality Reporting
Full FHIR® server (100% pre-configured, turn-key)
Pre-generated FHIR® resources which you can query and retrieve from your own FHIR® programs

A realistic healthcare network with Practitioners, Organizations, Locations, Roles & Endpoints
Patients with thousands of Encounters over a many-year period
Server can produce FHIR® Measure Reports for the following Measures:

Unhealthy Alcohol Use Screening and Follow-up (ASF)
Breast Cancer Screening (BCS)
CervicalCancer Screening (CCS)
ColorectalCancer Screening (COL)
Utilization of the PHQ-9 to Monitor Depression Symptoms for Adolescents and Adults (DMS)
Depression Remissionor Response for Adolescents and Adults (DRR)
Depression Screening and Follow-Up for Adolescents and Adults (DSF)
PneumococcalVaccinationStatus of Older Adults (PVS)
Quality FHIR® PIT™ Server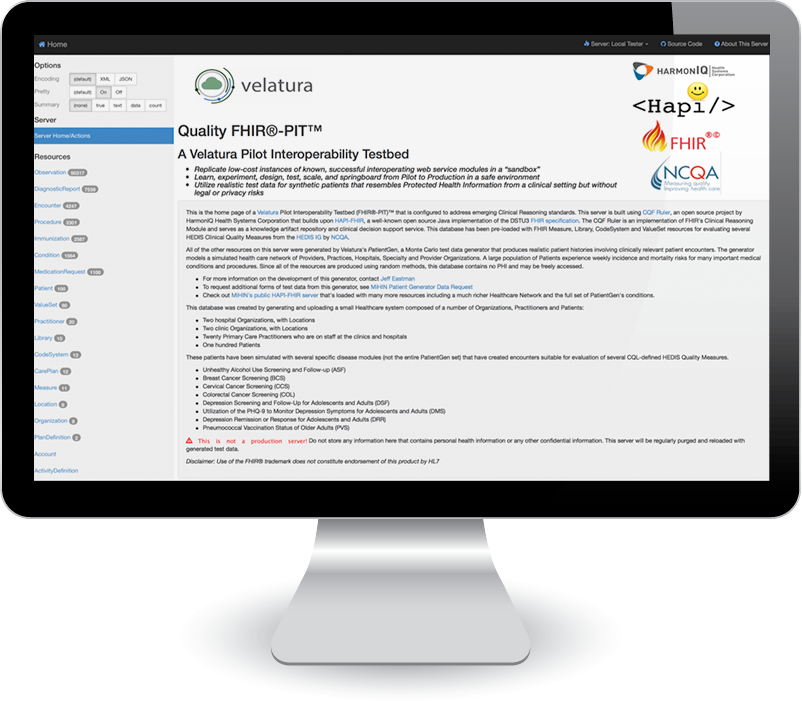 Leveraging Investment in Training
Capitalize on leadership and programmer FHIR® training
Join Velatura's Pilot Interoperability Testbed (PIT)
Define use cases to explore and test
Extend training application of FHIR® and Quality
Interoperability Testbed Goals
After FHIR® training, an environment is needed to use what was learned
Additionally, a safe environment for interoperability testing is needed
Must be easy to use with hands-on experimentation
Accelerate learning curve and better retention from hands-on experience
Include realistic but safe test data from Patient Generator
| | |
| --- | --- |
| | Additional FHIR® Starter Modules for Care Coordination and Public Health Reporting |
| | |