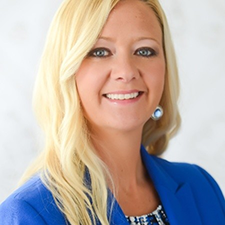 Angie Bass, MHA
Chief Strategy Officer
Biography:
As the Executive Vice President and Chief Strategy Officer of Velatura Health Information Exchange Corporation, Angie Bass, MHA is responsible for the successful development and execution of health information exchanges, including overseeing all aspects of strategic initiatives, business development, government relations and service delivery.
Under Bass' vision and leadership, VHIEC works on consolidation of health information exchanges, community-based organizations, and health information networks that have formally affiliated to achieve national economies of scale yet maintain localized stakeholder alignment. Through her direction, members of the VHIEC realize meaningful cost reductions through shared infrastructure, providing new opportunities to drive growth, improve healthcare quality, reduce disparities and increase care effectiveness
Bass is recognized as a collaborative partner of hospitals and health systems, healthcare providers, and healthcare associations throughout the Midwest. Under her direction, MHC became one of the nation's largest health information exchanges, with comprehensive patient electronic health records for more than 28+ million health records from across the Midwest. It created a patient-matching program that improves the ability of Veterans Affairs facilities to send medical records to civilian providers. She also succeeded in getting MHC to be a part of Missouri's Medicaid program. Bass joined MHC in May 2012 as Program Manager and quickly rose in the ranks, becoming the Director of Client Relations and Business Development in the same year and then promoted again to Chief Operating Officer in 2013. She brings over a decade of experience in health policy and health administration experience to the organization.
Prior to joining VHIEC and MHC, Angie worked as a Health Policy Research Analyst for the Missouri House of Representatives and as a Project Analyst for the Missouri Department of Mental Health. Bass received both her bachelor's degree and her Master of Health Administration from the University of Missouri.